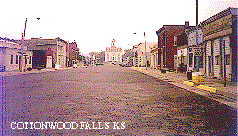 City of Cottonwood Falls, Chase County, Kansas
---
8 Wonders of Kansas Architecture Winner: Chase County Courthouse, Cottonwood Falls

The Medical Front WWI, All medical aspects & history, military and civilian, of World War One, the Great War





Chase County KS Web Sites

Art and Theater

Events and Festivals

History Groups

History Web Directories

Humanities

Museums

Native Prairie and Flowers

Libraries

Government

Graphics

Family History

Genealogy

Local History

Maps

Old West Kansas

Books and Articles

One Room School Houses
---
Site maintained by George Laughead, WWW-VL: Virtual Library, and MPMA Technology Committee. Site established 1993. Thanks to Lynn H. Nelson. See: George Laughead's linkedin.com page for more information.

---
Return to the Kansas Community Networks Kansas Cities, Towns and County Sites
or return to the Kansas Heritage Server.
---
Return to the Top. Site formerly maintained at the University of Kansas.