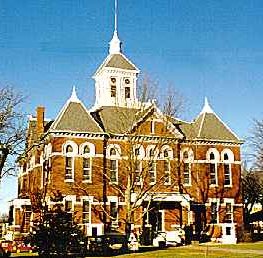 City of Yates Center, Woodson County, Kansas
---
Woodson County, founded in 1855 and named for Daniel Woodson, who was Secretary of the Territory and acting Governor in 1856, is located in the southeast part of the State. Woodson County is twenty-one miles north and south, twenty-four miles east and west containing 504 square miles, or 322,560 acres. In 1997 Woodson County had a population of 4,020. The county seat of Woodson County is Yates Center, which was made the county seat before there was a house on the town site or an inhabitant within its boundaries. Yates Center owes its life to the people of Woodson County and to Abner Yates who give his land to the town.
---
Woodson County Web Sites

Art and Theater

Events and Festivals

History Groups

History Web Directories

Humanities

Libraries

Museums

Native Prairie and Flowers

Government

Schools and Colleges and Universities

Virtual Colleges

Family History

Genealogy

Local History

Maps

Old West Kansas

Research Resources

Books and Articles

One Room School Houses

Southeast Kansas Towns
---
Site maintained by George Laughead, AAM Small Museums & Technology. Site established 1993. Thanks to the late Dr. Lynn H. Nelson, author of "HNSource, the first history site on the WWW."
---
Return to the Kansas Community Networks
or return to the Kansas Heritage Server.
---
Return to the Top. Site previously maintained at the University of Kansas. Site maintained in Dodge City, KS. Updated: 15 July 2013.