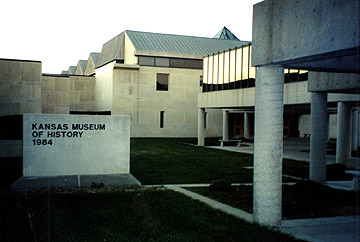 City of Topeka, Shawnee County, Kansas
---
Beats in Kansas: A Literary Cosmic Vortex
Seminar, Sun., 2-4 pm.
April 7, 2019 Wichita Public Library, Wichita, Kansas
The heartland has known the Beat writers from cradle to grave -- Michael McClure and Charles Plymell were born in Kansas, and William S. Burroughs spent his last years and died in Lawrence. In between, Allen Ginsberg and Gary Snyder made significant trips to the state. Other Kansas figures include Bruce Connor, Dennis Hopper, James Mechem, Roxie Powell, Jim McCrary, Wayne Propst, Glenn Todd, Alan Russo, John Fowler, Justin Hein, Bob Branaman, Ronald Johnson, and Burroughs' heir James Grauerholz, to name a few. The karmic connection between Beat figures and Kansas influences the literary communities to this day. George Laughead's website Beats In Kansas was launched in 2002. Sponsored by Humanities Kansas.
Kerry Wynn, Washburn University Map of Kansas Literature Project Director, will spend some time introducing the new map of Kansas authors;
Troy James Weaver, Wichita writer, will give a reading, with brief comments about how the Beats influence his work;
Denise Low, former Poet Laureate Kansas, will talk about Beats in Kansas: The Lawrence-Wichita Magnetic Pole
George Laughead, founder Beats in Kansas website, will give Beat Memoir with Artifacts, Beat life from 1963-2019
---
Featured Topeka Music
Wild Eye Live @ KJHK 2017 (Ross Williams)
Wild Eye Part 2 Live @ KJHK 2017
Joe Schoonover-Guitar; Sam Goodell-Keys; Lucas Parker-Bass; Taylor Babb-Drums
Joe Schoonover-Guitar; Joel Stratton-Bass; Matt Leifer-Drums
Joe Schoonover Flor de Lis by Djavan. Standing Room Only, 2015.
---
LoudLight, Progressive pro-voting and student voter registration group based in Topeka. Davis Hammet is director.
Mark Dunn's Flint Hills: Mark Dunn shares with you his view of the Flint Hills in all their moods -- easily one of the most beautiful places on the face of the earth; KanColl Graphics
National Register of Historic Places Nomination: Bowker House - Located southeast of the Kansas Statehouse, this two-story limestone residence was built in 1866 by Reverend Samuel Bowker to serve as a boarding house for students of Lincoln College (Washburn University). It is the only extant resource associated with Lincoln College and is believed to be one of the oldest continuously inhabited residences in Topeka.
Shawnee County KS Web Sites

Art and Theater

Events and Festivals

History Groups

History Web Directories

Humanities

Libraries

State and National

Magazines

Museums

Government

Schools and Universities

Visitors and Tour Groups

Genealogy

Graphics

Family History

Local History

Old West Kansas

Research Resources

Books and Articles

Northeast Kansas Towns
---
Site maintained by George Laughead, AAM Small Museums & Technology. Site established 1993. Thanks to Lynn H. Nelson, author of "HNSource, the first history site on the WWW." and WWW-VL: History First site on the World Wide Web Virtual Library.
---
Return to the Kansas Community Networks Towns, Cities, Counties
or return to Kansas Heritage.
---
Return to the Top. Site previously maintained at the University of Kansas. Update: 05 Jan 2019