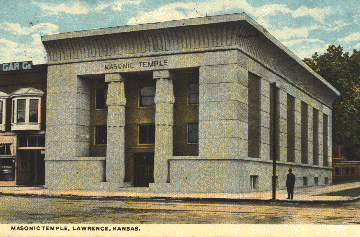 City of Lawrence, Douglas County, Kansas
---
Featured Lawrence Music
Bad Alaskan, Alex Kimball Williams
Wild Eye Live @ KJHK 2017 (Ross Williams)
Wild Eye Part 2 Live @ KJHK 2017
Joe Schoonover-Guitar; Sam Goodell-Keys; Lucas Parker-Bass; Taylor Babb-Drums
Joe Schoonover-Guitar; Joel Stratton-Bass; Matt Leifer-Drums
Joe Schoonover Flor de Lis by Djavan. Standing Room Only, 2015.
---
The heartland has known the Beat writers from cradle to grave -- Michael McClure and Charles Plymell were born in Kansas, and William S. Burroughs spent his last years and died in Lawrence. In between, Allen Ginsberg and Gary Snyder made significant trips to the state. Other Kansas figures include Bruce Connor, Dennis Hopper, James Mechem, Roxie Powell, Jim McCrary, Wayne Propst, Glenn Todd, Alan Russo, John Fowler, Justin Hein, Bob Branaman, Ronald Johnson, and Burroughs' heir James Grauerholz, to name a few. The karmic connection between Beat figures and Kansas influences the literary communities to this day. George Laughead's website Beats In Kansas was launched in 2002. Sponsored by Humanities Kansas.
Kerry Wynn, Washburn University Map of Kansas Literature Project Director, will spend some time introducing the new map of Kansas authors;
Denise Low, former Poet Laureate Kansas, will talk about Beats in Kansas: The Lawrence-Wichita Magnetic Pole
George Laughead, founder Beats in Kansas website, will give Beat Memoir with Artifacts, Beat life from 1963-2019
---
LoudLight, Progressive pro-voting and student voter registration group based in Topeka. Davis Hammet, director
---
Reconstruction, Unraveling Lawrence's most explosive underground newspaper, 40 years later: Issue No. 1, Feb. 10-24, 1969, by Frank Tankard, lawrence.com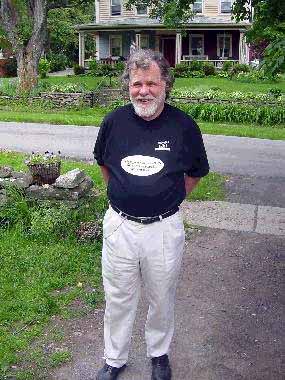 Charley Plymell notes: "I first met Grant at B's [William Burroughs] funeral. Charles Henri Ford has a cameo in this and Ray Bremser kissing the bird."
S. Clay Wilson's medical crisis -- hard to explain that without his art, the total visual palette used today would be different.
Donations address: S. Clay Wilson Special Needs Trust, PO Box 14854, San Francisco CA 94114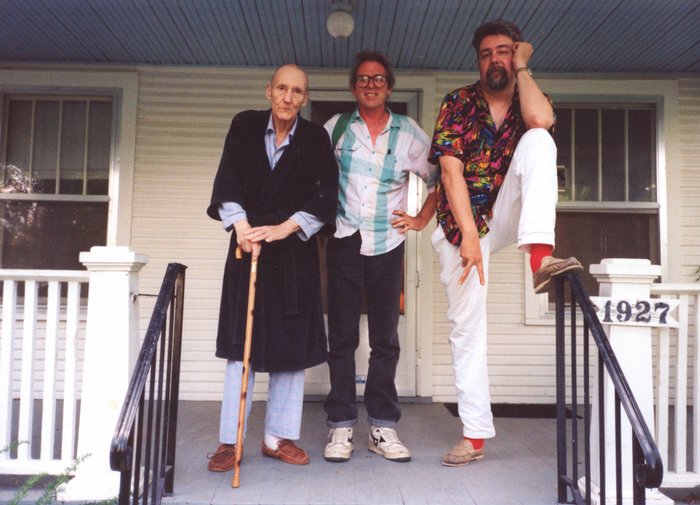 William Burroughs, Jim McCrary, S. Clay Wilson -- on William's porch.
---
National Register of Historic Places Nomination: Oread Historic District - Located directly west of the downtown commercial area and east of the University of Kansas campus, the majority of the Oread Historic District falls within the Original town plat, and thus represents one of Lawrence's oldest residential neighborhoods.
Lawrence KS Web Sites

Art, Music and Theater

Ad Astra Poetry Project, Denise Low | Kansas Poet Laureate, 2007-2009
Artists In Kansas Kansas Art Centers, Kansas Art Galleries, Kansas Art Museums
Annual Art in the Park Lawrence Art Guide
Beats In Kansas The Beat Generation in the Heartland, including John E. Fowler, Charles Plymell, William S. Burroughs, Jim McCrary, Wayne Propst and James Grauerholz
William Burroughs Photo Gallery (Feb. 5, 1914 - Aug. 2, 1997) Beats In Kansas Original
William S. Burroughs, Photographs by Jon Blumb, Lawrence; Beach Museum of Art, Manhattan
Malcolm McNeill Interview on William Burroughs, Ah Puch Is Here, Emmy award winning artist McNeill worked with Burroughs in London during early 1970s, by George Laughead
Ah Pook Is Here Malcolm McNeill & William Burroughs, art work for unpublished image novel by McNeill and William Burroughs
The Lost Art of Ah Pook is Here, Malcolm McNeill & William S. Burroughs Word/Image Novel


Barry Miles, William Burroughs' Biographer, March 2010
Hikuta! Tom Peschio on William Burroughs and His Guns, [T.P. was close friend and helper of W.S.B.], realitystudio.org
A Blackout Tavern: Study in 1960s Folklore, by Pat O'Connor, Wichita; Beats In Kansas
Birth of The Beats is Born, 64 years later, interview with editor James Grauerholz about And the Hippos Were Boiled in Their Tanks, Nov. 17, 2008





Events and Festivals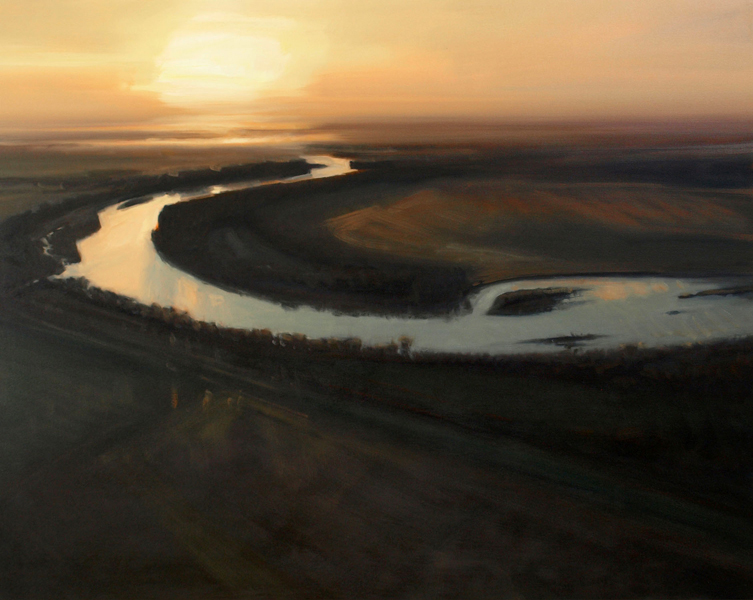 General Sites
History Groups
History Web Directories
Humanities
Libraries
Magazines
Museums
Newspapers
Radio Stations, Non-Commercial
WWW-VL: W3 Search Engines Internet search engines worldwide,
search engine tips, website tools, virus and spyware protection.
Government
Lawrence Visitors and Tour Groups
Schools and Universities
Graphics
Maps
Native Prairie and Flowers
Genealogy
Family History
Local History
Old West Kansas
Books and Articles
Northeast Kansas Towns
---
Site maintained by George Laughead , AAM Small Museums & Technology. Site established 1993. Thanks to the late Dr. Lynn H. Nelson, author of "HNSource, the first history site on the WWW."
---
Return to the Kansas Community Networks KS Cities, Towns and County Sites
or return to Kansas Heritage Group.
---
Return to the Top. Site previously maintained at the University of Kansas. Updated: 05 June 2019.

(© 2002-2019, George Laughead )